Vanilla Ruffle Cake
Play dress-up with a plain-Jane cake by adding soft rows of sweet ruffles made with our cherry-almond butter frosting. Use a decorating bag with a petal tip for smooth and easy application.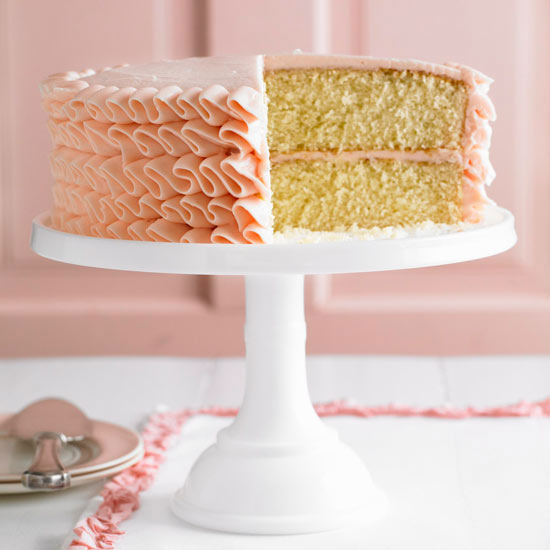 Vanilla Ruffle Cake
Ingredients
3/4 cup (1-1/2 sticks) butter
3 eggs
2 1/2 cups all-purpose flour
2 1/2 teaspoons baking powder
1/2 teaspoon salt
1 3/4 cups sugar
1 1/2 teaspoons vanilla
1 1/4 cups milk
2 recipes Almost-Homemade Vanilla Buttercream
Red food coloring
Directions
Allow butter and eggs to stand at room temperature for 30 minutes. Meanwhile, grease and lightly flour two 8x1-1/2-inch round cake pans using butter and all-purpose flour; set aside. In medium bowl stir together 2-1/2 cups flour, the baking powder, and salt; set aside.
Preheat oven to 375 degrees F. In large mixing bowl beat butter with mixer on medium to high for 30 seconds. Gradually add sugar, about 1/4 cup at a time, beating on medium until well combined. Scrape bowl; beat 2 minutes more. Add eggs one at a time, beating well after each addition. Beat in vanilla. Alternately add flour mixture and milk, beating on low after each addition just until combined. Spread batter in prepared pans.
Bake 30 to 35 minutes or until a wooden toothpick inserted near centers comes out clean. Cool in pans on wire racks 10 minutes. Remove layers from pans; cool completely on wire racks.
Meanwhile, prepare Almost-Homemade Vanilla Buttercream. Tint frosting pale pink (1 small drop of red food coloring). Place one cooled layer on serving plate. Frost top of layer with some frosting. Top with second layer. Spread frosting on top layer. Spread a thin crumb coat on sides for ruffles to adhere. Refrigerate for 10 minutes.
For ruffles, fit a pastry bag (or plastic freezer bag with one corner snipped off) with a Wilton #125 petal tip. Fill bag with frosting. Beginning at base of cake and holding tip against cake, pipe frosting in a back and forth motion to create rows of ruffles.
Homemade Vanilla Buttercream
Ingredients
1 1/2 cups unsalted butter (3 sticks), softened, cut in 1-inch pieces
1 16 ounce jar marshmallow creme*
1/2 cup powdered sugar
1 teaspoon vanilla
Directions
In large mixing bowl beat softened butter with mixer on medium until light and fluffy. Add marshmallow creme; beat until smooth, scraping sides of bowl. Add powdered sugar and vanilla; beat until light and fluffy. If frosting is too stiff to spread, soften in microwave oven no more than 10 seconds, then beat again until smooth.
Frost cake immediately. Or, to store, cover and refrigerate up to 3 days or freeze up to 1 month. Bring to room temperature before frosting cake. Makes 3 cups.