Fresh Apple Cake
Fresh Apple Cake
Ingredients
3 cups all-purpose flour
2 cups sugar
1 teaspoon baking soda
1 teaspoon salt
1 teaspoon ground cinnamon
2 eggs, lightly beaten
1 1/4 cups canola oil or vegetable oil
2 teaspoons vanilla
3 medium Granny Smith apples, peeled and chopped (3 cups)
1 cup chopped pecans or walnuts, toasted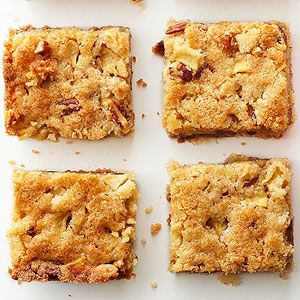 Whipped cream (optional)
Directions
Preheat oven to 350 degrees F. Grease a 13x9x2-inch baking pan; set aside. In a very large bowl combine flour, sugar, baking soda, salt, and cinnamon. Make a well in center of flour mixture; set aside.
In a medium bowl combine eggs, oil, and vanilla. Stir in apples and nuts. Add egg mixture in the well in flour mixture, stirring just until moistened (batter will be thick). Spread batter evenly in the prepared pan.
Bake for 50 to 55 minutes or until a toothpick inserted near the center comes out clean. Cool in pan on a wire rack for 1 hour to serve slightly warm, or cool completely. If desired, top each serving with whipped cream.